Innovation, Technology & Quality (ITQ) ​
We aspire to deliver extraordinary consumer experiences by transforming possibilities into reality through science.
In partnership with our cross-functional partners, we innovate and develop products that meet the ever-changing needs of our consumers and enable long-term business growth. We identify and develop technologies that shape and protect our businesses today and into the future. All of what we do is predicated on the foundation of quality and food safety that our consumers trust us to deliver. We are BUSINESS PARTNERS that sit at the intersection of business, consumer needs and technical possibilities.
ITQ Mumbai Teams:
We are 100+ people strong organization with diverse background and expertise - Food Science, Biotechnology, Food Engineering and Technology, Nutrition , Dairy Science, Biochemistry, Life Sciences, Polymer Science, Packaging, Patent Law, Microbiology, Statistics, Data Science, Information Technology. We celebrate the diversity, work with agility in a dynamic environment and focus on leading in the now, near & future.
We bring a Global mindset in our approach to solving problems and make impact in broadly two areas – innovating for Global Emerging Markets (GEMs business unit- India, HongKong and Taiwan, South Korea & Distributor Markets) and enabling Global Capabilities.
We innovate in the areas of product, process, packaging, technology and quality with a special focus on GEMs. The team works in strong partnership with markets to understand their consumer demands, requirements and industry trends. Our approach to innovation is strongly rooted in the principles of 'Consumer First' that focuses all our efforts around the lives and needs of our consumers.
We also enable Global Capabilities to drive innovation and growth via research, data, digital and analytics and other technology-based solutions. The team partners throughout the discovery, development and commercialization and collaborates globally across all business segments - North America Retail, North America Foodservice, International, PET as well as the Cereal Partners Worldwide business.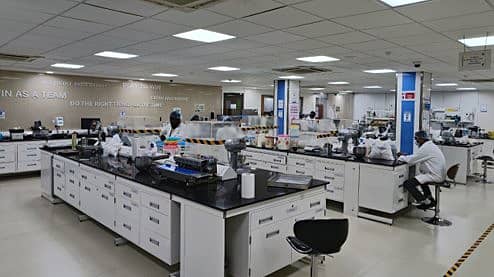 The ITQ function in General Mills India Center houses a state-of-the-art lab, which encourages everyday experimentation backed by world-class infrastructure and a strong 'safety first' philosophy. This lab is equipped with analytical & instrumentation, pilot plant and product application capabilities such as rheometry, texture analyzer, calorimetry, chromatography, bakery, fermentation, Flour analysis specialization etc.
ITQ Mumbai Teams
Product, Process And Packaging R&D
Our R&D teams focus on applying technical expertise and global scale to develop new products, deliver cost savings and maintain our core businesses. The team applies empathetic consumer & customer insights and knowledge of food, flavors, culinary techniques, ingredient functionality, packaging material properties & design, life science and interaction of product with package, process & supply chain to develop remarkable products with robust packaging.
Food Safety & Quality
Our Food Safety and Quality teams ensures to provide safe, consistent, remarkable products that meet consumer, customer and regulatory expectations everywhere, everyday. The team applies knowledge of human safety, ingredients, packaging, process, supply chain, environment, risk assessment & systems to ensure human and food safety.
Nutrition & Technology Solutions
Our Technology teams transform possibilities into realities through science and technology. The teams applies knowledge of fundamental science, nutrition, analytics, formulation, packaging, process supply chain and methods to develop, evaluate and implement advantaged science and technology solutions. The teams connects global ITQ teams to action-ready data, information and insights by leveraging the technical expertise and enables innovation through digital transformation.
Integrated Operations
Our Integrated Operations teams provides industry leading operational capabilities that enable us to operate efficiently as an organization. The teams are responsible for operating and maintaining our regional technical center, supports global teams, provides analytical expertize and safety leadership for the organization.